Thank you for subscribing to the Physical Therapy Advisor newsletter!  To thank you for your continued support, I'd love to share with you a FREE CHAPTER from my eBook, Treating Low Back Pain During Exercise and Athletics.
In this free chapter, you will learn how to self-treat low back pain (LBP) following an injury.  It will help you to assess your symptoms and your pain response.  Upon establishing a directional preference (a pattern to the pain), you will learn which self-treatment strategies to implement in order to decrease your pain and how to prevent LBP from reoccurring.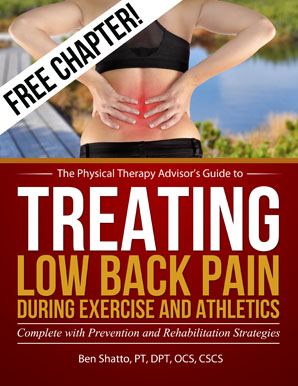 CLICK BELOW TO DOWNLOAD NOW! 
Free Chapter of Treating Low Back Pain during Exercise and Athletics
If you want to get the full edition of the eBook, use discount code LBP to receive 15% off!  To learn more, please visit: