Thank you for subscribing!  You will receive an e-mail to confirm your subscription.  If you don't, please check your spam folder or your promotions folder (for Gmail users).
I'd love to share with you a FREE CHAPTER from my eBook, Treating Low Back Pain During Exercise and Athletics.  In this free chapter, you will learn how to self-treat low back pain (LBP) following an injury.  It will help you to assess your symptoms and your pain response.  Upon establishing a directional preference (a pattern to the pain), you will learn which self-treatment strategies to implement in order to decrease your pain and how to prevent LBP from reoccurring.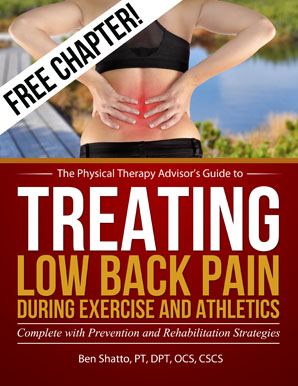 CLICK BELOW TO DOWNLOAD NOW! 
Free Chapter of Treating Low Back Pain during Exercise and Athletics
Looking for the 10 Minutes per Day Low Back Pain Prevention Guide or My Top 8 Stretches to Eliminate Neck, Upper Back, and Shoulder Pain?  No worries!  You can find them here.
CLICK BELOW TO DOWNLOAD NOW!
10 Minutes per Day Low Back Pain Prevention Guide
If you have a question that you would like featured in an upcoming blog post, please submit it to contact@thePhysicalTherapyAdvisor.com.
Be sure to join our growing community on Facebook by liking The Physical Therapy Advisor where you will receive additional health and lifestyle information!
Disclaimer:  The Physical Therapy Advisor blog is for general informational purposes only and does not constitute the practice of medicine or other professional health care services, including the giving of medical advice.  No health care provider/patient relationship is formed.  The use of information on this blog or materials linked from this blog is at your own risk.  The content of this blog is not intended to be a substitute for professional medical advice, diagnosis, or treatment.  Do not disregard, or delay in obtaining, medical advice for any medical condition you may have.  Please seek the assistance of your health care professionals for any such conditions.