"Falls don't just happen, and people don't fall because they get older. Often there is one underlying cause or risk factor involved with the fall." –National Institutes of Health (NIH)
Many older adults are concerned about the possibility of falling. In many cases, such apprehension leads to a reduction in activity which only increases the risk of falling and debility over the long term. I recently had the opportunity to speak to a large group of adults regarding the topic of falling. The intent is not to scare people, but to encourage everyone that most falls are preventable!  The goal for healthy aging is the opportunity to live well, be active, and feel empowered to live your life the way you want to.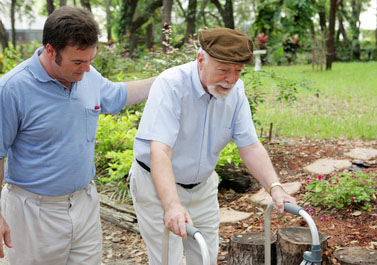 The Truth about Falling
One-third of adults over 65 fall each year and more than half of adults over 80 fall annually.
In older adults, falls are the leading cause of fatal and non-fatal injuries.
Adults over 75 are five times more likely to be admitted to a nursing center for over a year from an injury related fall.
20-30% of older adults that fall suffer a moderate to severe injury including lacerations and fractures.
Recent information from the Centers for Disease Control and Prevention (CDC) show that each year at least 250,000 older people (those 65 and older) are hospitalized for hip fractures.
More than 95% of hip fractures are caused by falling.
Women fall more often than men, and experience three-quarters of all hip fractures.
Women are more often diagnosed with osteoporosis and osteopenia, a disease that weakens bones and makes them more likely to break.
The older you are, the greater the chances of breaking your hip when you fall.
Over 20% of people who suffer a hip fracture will die within one year and over 50% that survive will never return to their prior baseline.
For excellent patient resources, please refer to Older Adult Fall Prevention.
Fall Risk Factors
Intrinsic (Self Risk Factors):
Visual and motor reaction time problems.
Medication side effects and reactions. (Polypharmacy refers to taking more than four medications.)
Visual impairments.
Cognitive impairments.
Cardiovascular issues.
Incontinence (loss of bladder or bowel control).
Medical complications such as urinary tract infections or dehydration.
Vestibular dysfunction.
Extrinsic (External Risk Factors):
Poor lighting.
Stairs with poor railings.
Throw rugs or slick floors.
Improperly fitting clothing or footwear.
Lack of or improper use of assistive devices such as canes or walkers.
Cluttered living areas.
Rushed movements such as hurrying to answer the phone or a door.
What You can do to Prevent Falls
Fall Proof your Home:
Make sure that you have adequate lighting. This eliminates potential trip issues and helps if you have a visual impairment.
Remove loose throw rugs or tack them down.
Avoid slick floors.
Remove clutter from the floor.
Add grab bars and hand rails as needed in the bathroom or near steps and stairs.
Re-organize commonly used items to make them easier to reach.
Make sure you have clear pathways with extra room to accommodate any assistive devices such as a walker.
For an excellent resource for practical strategies to fall proof your home, please refer to http://nihseniorhealth.gov/falls/homesafety/01.html
Fall Proof Yourself:
Have your eyes regularly checked and always wear appropriate eyewear. For example, if you wear reading glasses, don't wear them when you're walking.
Be sure your footwear and clothing fit appropriately. Pants can fall down off your waist and cause you to trip. Pant legs that are too long or improperly fitting shoes are also common trip hazards.
Use your assistive devices, such as canes and walkers, appropriately and be sure they fit properly.
Be sure you have adequate lower leg and core strength.
Be sure you have adequate balance and stability.
Many research studies indicate that exercise can reduce the risk of falling. A thorough exercise program should address aerobic conditioning, strength, balance, and flexibility.  For more information, please refer to Why Exercise can Reduce Your Risk of Falling.  Before starting a new exercise program, it's best to consult with your physician to resolve any potential medication issues and be certain that you are healthy enough for exercise.
Most falls are preventable if you are proactive. A fall can significantly and permanently alter your ability to care for yourself and function independently.  Maintaining your physical function and mobility is a critical component to aging well and gracefully.  For more information, please refer to 8 Easy Strategies to Limit the Risk of Falling.
Have you or a loved one been injured from a fall? Which strategy can you implement to reduce your risk of falling?  Please leave your comments below.
If you have a question that you would like featured in an upcoming blog post, please comment below or submit your question to contact@thePhysicalTherapyAdvisor.com. Be sure to join our growing community on Facebook by liking The Physical Therapy Advisor!
Disclaimer:  The Physical Therapy Advisor blog is for general informational purposes only and does not constitute the practice of medicine or other professional health care services, including the giving of medical advice.  No health care provider/patient relationship is formed.  The use of information on this blog or materials linked from this blog is at your own risk.  The content of this blog is not intended to be a substitute for professional medical advice, diagnosis, or treatment.  Do not disregard, or delay in obtaining, medical advice for any medical condition you may have.  Please seek the assistance of your health care professionals for any such conditions.